At our morning meeting today, I was greeted with Global Crafts tee shirt history.  Three of the staff were sporting shirts from our attempts to get the Fair Trade message out there on a tee shirt and inspired me to write a blog post about it.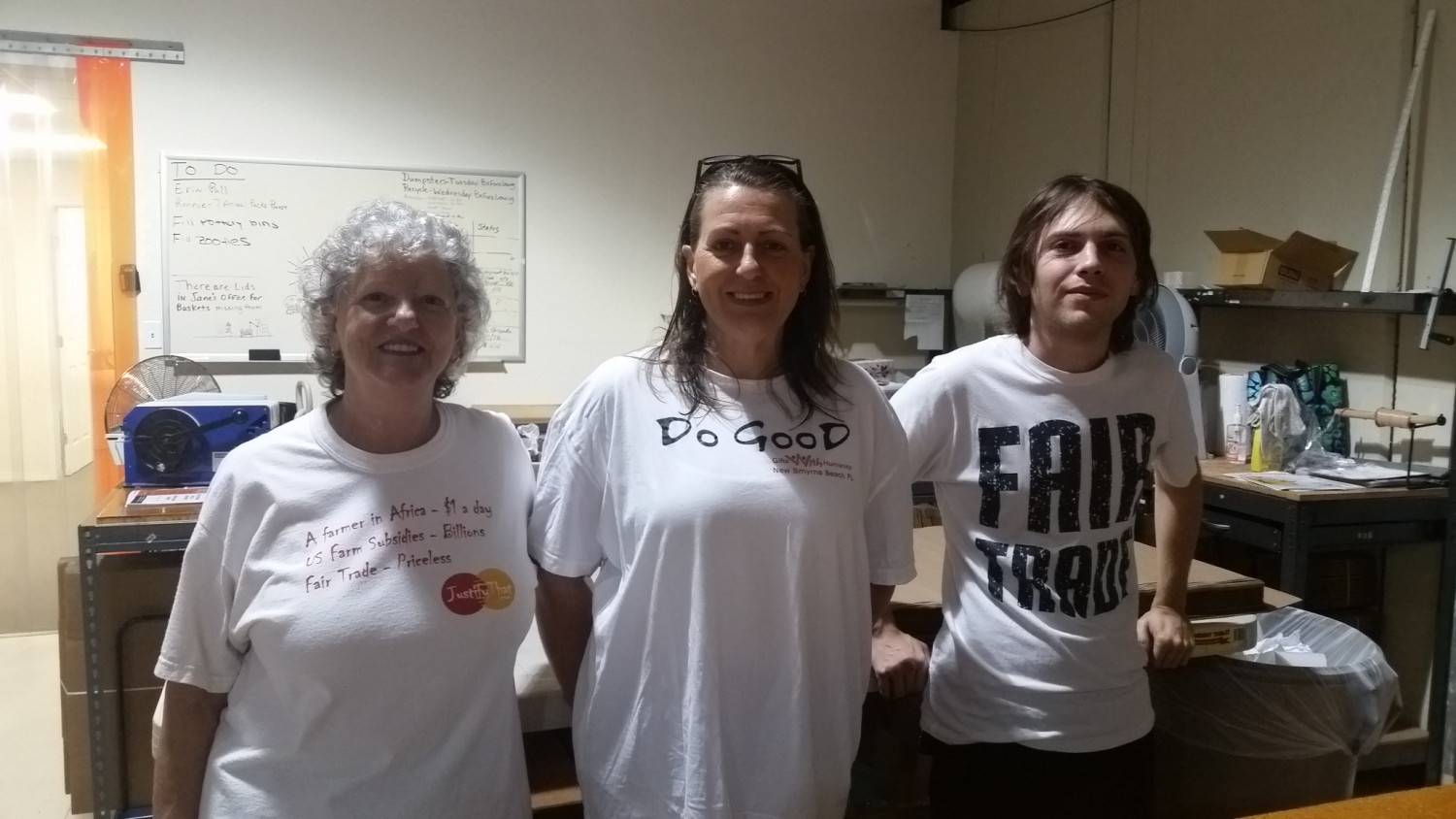 JustifyThat.com
Ronnie was wearing a tee from our JustifyThat line, designed when we first dipped our toe into this market.  It was 2006 and we thought the brand would promote fair trade activism.  What it did was get us a cease-and-desist letter from MasterCard.
We shopped everywhere for tees made of fair trade cotton.  At the time, North Country Fair Trade was the place for tees but we struggled to find anyone who would print on tees that they didn't supply.  Yes, we then bought a screen printing machine on eBay and picked it up from South Florida.  Unfortunately we knew nothing about screen printing.  The machine finally found a home at a non-profit earlier this year without ever printing a fair trade tee shirt.
Next stop was to a US-based, union shop called SOS From Texas who sells US-grown, organic cotton tee shirts and they would print using water-based inks.  We printed three designs, the most popular one was a knock-off on the MasterCard "Priceless" marketing.  It said:
A farmer in Africa, $1 a day
US farm subsidies, billions
Fair Trade, "Priceless"
The JustifyThat.com was in the red and yellow circle that kind of looked like a MasterCard symbol.  You would think we would have learned about intellectual property after receiving our first cease-and-desist letter from Volkswagen for the Beetle-shaped car made of wire in Kenya but obviously we didnt.   While we didn't mention MasterCard in the description of the tee, we did mention "Priceless" and whichever employee had the job of monitoring the Internet for this found us.  So while one might think of this as homage, MasterCard didn't.  We were instructed to destroy the shirts but they became staff uniforms.
Shirts for Our Retail Store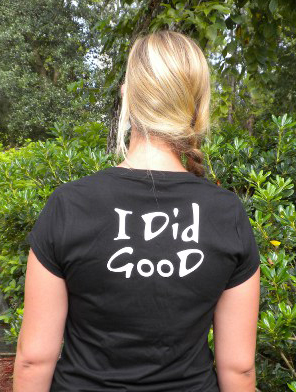 When we opened our retail store Gifts With Humanity in 2012, we were sure that everyone would want a Fair Trade souvenir from New Smyrna Beach so we designed the "Do Good" tee shirts (they say "I Did Good" on the back.)  Not only could we sell them, our staff could wear them.  Erin, who works in the store and the warehouse, has a black one for public and a roomy white one for warehouse work.
I knew Freeset from the bags they provided for one of the Fair Trade Federation conferences so we worked with them on the Do Good designs.  The staff loved the fair trade organic cotton tees.  To be honest, at a $25 price point, they were a little pricey for our sleepy little beach town store surrounded by stores carrying tees from China.
Fair Trade Tees Redux
It's kind of blurry why we decided to venture (again) into getting the fair trade message on a tee-shirt in 2016.  We decided to work with (i.e. paid for) a branding company to put out fair trade to its designers.  Kevin had already made the Fair Trade Nutritional Ingredients design but we needed something more picturesque, or so we thought.  As we reviewed the designs, we realized that it is really tough to get the fair trade message across in a picture.  So we ended up simply with "Fair Trade" and the ingredients design.  If you only have a fleeting glance to read the tee shirt, you see "Fair Trade".  If you have some time (or are sitting behind someone at a baseball game), you can read the detail of the Fair Trade Ingredients.  Nate, who has one on today in the warehouse, has at least four of them.
These too are Freeset fair trade organic cotton shirts.  If you ever have the urge to design tee shirts in volume (our first order of "Do Good" shirts was 50), I highly recommend looking into working with Freeset.  Their prices are door-to-door, including shipping and customs, with quality and price comparable to organic cotton, union-made shirts.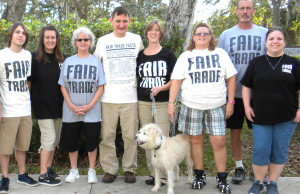 Want Some of Your Own?
These shirts make great staff shirts for wearing in your store or events.  It's a great educational tool –  one retail store has one framed and displayed like a poster.  They make terrific prizes too. It's great when someone comes into the store, "gets it", and buys one. We want to order more so we are offering our current wholesale inventory for $10 a shirt with the discount coupon FT17.  They do run a little small so if you're order for yourself, you may want to get a larger size.  And don't judge the wearability by the images on our wholesale website Global Crafts B2B – the models are Kevin and me.