October, 2001
Plugged-In Planet
The Peace Corps' digital reinvention
By LISA HICKEY
Silicon Alley Reporter, New York, NY
A decade ago, a typical Peace Corps experience might consist of building outdoor toilets in rural villages lacking public sanitation. Toilets might be made of basic hand-mixed concrete poured over a banana-leaf-lined pit, and plumbing, a bucket of water poured into the bowl.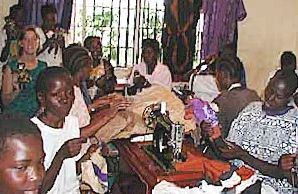 Renice Jones and the Temak young women who make the "Mtoto Doll," which is sold on the Internet.
That was before last year, when former Peace Corps director Mark Schneider unveiled the Peace Corps' Global Technology Initiative. Now, a staff of about 70 volunteers, schooled by an IT trainer, is dedicated specifically to helping launch technology projects in developing nations. Meanwhile, Peace Corps volunteers are now expected to use computers (as well as banana leaves) in their fight against poverty.

For this newly created "e-Peace Corps," the timing couldn't have been better. With the tech sector shedding jobs, the organization is poised to receive even more Internet-attuned volunteers than ever.

"Historically, whenever there is a down-turn in the economy, more people enter the Peace Corps. And applicants these days definitely tend to be more 'tech savvy,'" says Gini Wilderson, who as the Peace Corps' information and communications technologies specialist is responsible for overseeing this sweeping transformation. "They are coming in with Web development, computer-training skills, and distance-education skills."

Connecticut native Andrew Cunningham, one of these Alley-era recruits, was doing tech support for Macintosh when he left after three years to join the Peace Corps. As a "natural resources" volunteer in the village of Concepcion de Maria in Nicaragua, near the Honduras border, Cunningham supervised the planting and growing of trees. But in time, he realized his computer skills could be his most significant legacy.

Backed by the community's leaders, Cunningham built a website so that international institutions could learn more about development projects occurring in the area; it allowed a local cooperative to drum up enough funds to purchase an ambulance to transport sick residents. Cunningham has also been training high school students in Word and PowerPoint, and helping them learn basic e-mail skills.

"One story that will always stick in my mind is the first computer class of a seventh-grade girl," he says. "She was from a nearby village that does not have electricity. It was obviously her first time to even see a computer. The little girl picked up the mouse and began to touch the monitor with it. The beautiful thing is that less than 30 minutes later, she was double-clicking, opening menus, and drawing pictures."

Kenya-based volunteer and former computer programmer Renice Jones agrees. "It's definitely not your father's Peace Corps anymore," Jones says. After working for Electronic Data Systems for 17 years, Jones decided it was time to escape corporate America. After arriving in Kenya, she encountered a women's group called Teenage Mothers Association of Kenya (TEMAK), whose primary function is to teach teenage mothers job skills and to provide primary education to their kids. To help the group raise extra money, Jones launched the website www.globalcrafts.co.uk to sell and distribute local crafts over the Internet, including TEMAK-manufactured items.

Corporate America has stood up and taken notice. Earlier this year, Hewlett-Packard and AOL Times Warner jointly awarded Jones something called a "Peace Pack," which is an up to $10,000 grant earmarked specifically for computers, printers, modems, digital cameras, and Internet services. The aid has also helped Jones' Kenyan village to purchase the domain name www.womenofafrica.com, so as to host other websites for African women and youth groups (webmaster's note: the domain name purchased was www.afrikapamoja.org)

The Honduran town of Yuscaran is seeing some benefits of the tech initiative as well. There, Susan Stolpe and other volunteers received a Peace Pack earlier this year to help build a public library. With a population of 13,500 residents, most of whom don't have computer experience, Yuscaran is struggling to find sustainable economic opportunities. Local leaders believe that wiring the new library could also help promote the area outside of Nicaragua as a tourist destination, touting its colonial architecture, gold and silver mines, rainforests, and park-protected mountain ranges.

Critics say that these acts of corporate charity are often thinly veiled attempts to grab first-mover advantage in emerging markets. And, in many of these underserved towns, there may be more fundamental infrastructure issues to address. "We're still having problems sharing the analog dial-up telephone lines with multiple other computers," Jones says.

Further, language barriers can complicate the ramping up of IT skills, even for those in areas with existing high-end jobs. Volunteer Blair DeWeese, based in El Paraiso, Honduras, teaches computer skills to accountants who maintain vo9lumes of handwritten records. "Much of this could be automated by using Excel, but the workers don't know how to use it," DeWeese says, since all of the software manuals are still written in English.

Still, despite the hurdles, applicants keep coming. Douglas Miller, a Peace Corps recruiter in New York City, says the selection process is similar to Silicon Alley's in its heyday. "You don't necessarily have to have a degree in computer science [to do the work], but you do need to have some applicable work experience," he says.

And Miller has a knowledgeable perspective on the changes that have taken place in this 40-plus-year-old institution, having been a Peace Corps volunteer in Thailand himself 10 years ago. "None of this would have been relevant then," he explains. "There weren't even computers in the town."