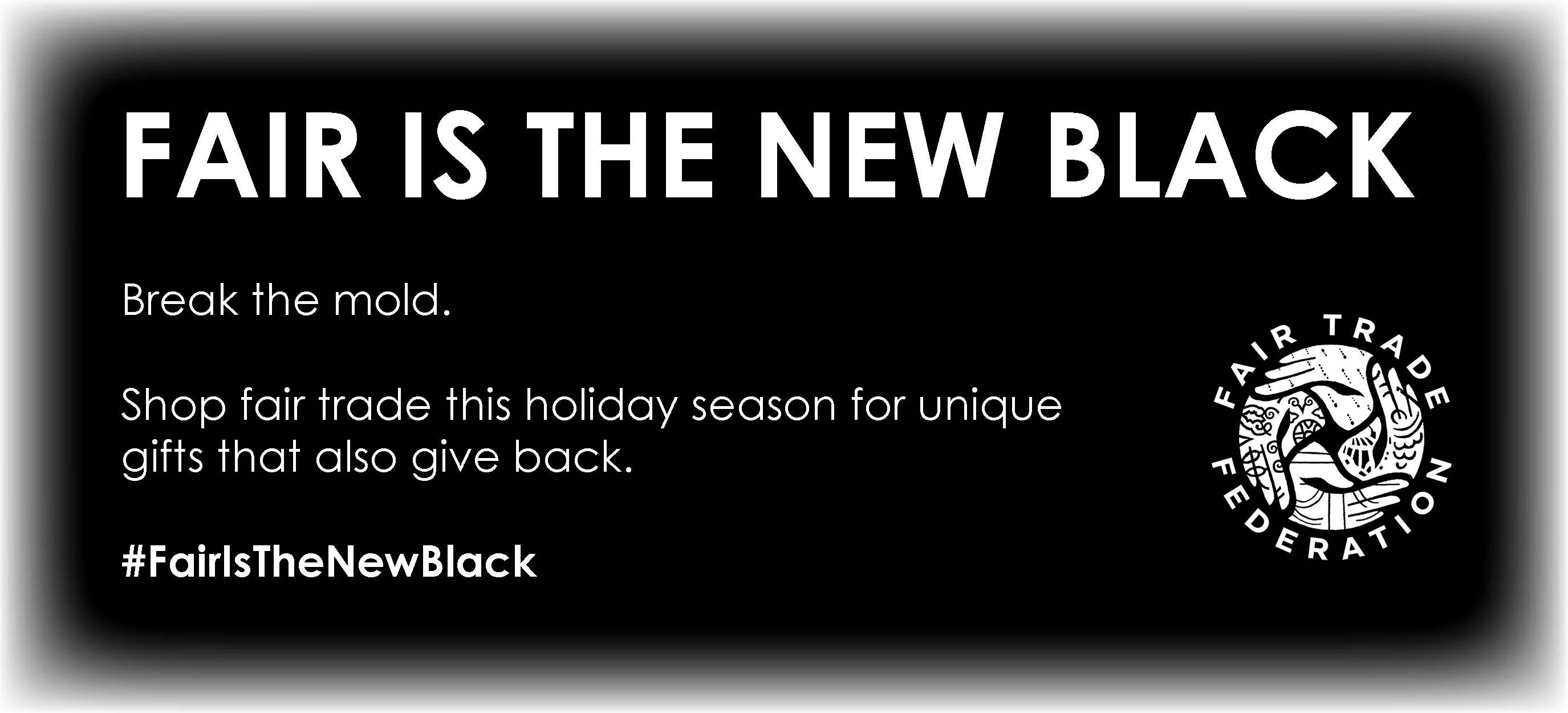 It's shocking how prevalent the conversation around trade has become with this election cycle.  Here we are, promoting fair trade as we know it, some of us for decades, only to have the word "trade" prefixed by a lot of negative adjectives (and expletives) that have given trade a bad name.  But this is our name, so we have to make sure the message gets out there with the words. Let's focus on the "Fair" part of fair trade.
For this holiday sales season and in acknowledgement of the shopping nightmare that is Black Friday, the Fair Trade Federation has embraced the marketing message "Fair Is the New Black." Members and others who sell fair trade products are using the hashtag #fairisthenewblack in their marketing materials and social media.  No mention of that ugly word "trade" and a clever message.
So I wanted to see if there was any possibility of easing away from the word "trade" permanently. I almost cried, though, when I did a search for the FAIR federation and found its an acronym for Federation for American Immigration Reform.  And while I usually put links to pertinent websites in my blog posts, I don't want to help this organization gain any traction in search engine rankings.  But here's a piece of its mission statement so you'll have an idea: "FAIR seeks to reduce overall immigration to a level that is more manageable and which more closely reflects past policy. Reducing legal immigration from well over one million presently, to 300,000 a year over a sustained period will allow America to more sensibly manage its growth, address its environmental needs, and maintain a high quality of life." Enough said. So we definitely can't take the word "Trade" permanently out of our message or our name.
It has always been difficult describing what we believe in and what we do in a sound bite.  But now more than ever we have to embrace who we are and what we believe in and promote "Fair Trade."
If you are looking for Fair Trade message T-shirts for your store, Global Crafts has them available.