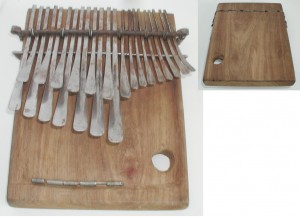 When we unpacked our first shipment of Zimbabwe wood carvings in 2003, we found that the empty spaces in the box were filled with blocks of wood with rusty pieces of metal attached.  Each one weighed just under a pound.  We'd shipped the order by EMS, which is international priority mail, and paid dearly for every pound so we weren't pleased when these unsellable heavy pieces of filler arrived.
"They're mbiras," Dominic told us.  Since we didn't order them, we asked him the price and said we'd put them on sale and see what happens.  Because each piece was different – some had rusty bottle caps hammered into them, others had carved designs, while still others had signatures carved in the back – we thought our best bet would be to sell them on eBay and in our retail store.  One afternoon a young man visit the store, sat on the floor with the mbira in his hands, and played it for the first time until his fingers nearly bled.  This was when we began to develop a respect for the instrument.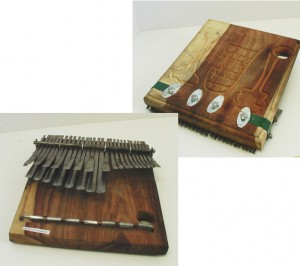 We listed one mbira at a time on eBay as an auction item starting at the cost price.  To our amazement, each mbira caused a fierce bidding war, with the resulting bid often being more than ten times the cost.  The ones we thought looked better (there wasn't as much rust or the wood wasn't cracked) sold for much less than the ones that had almost been tossed in the trash.  So while we still didn't know what we had and what they were worth, we offered a much higher price to Dominic and started placing regular orders.
A graduate student at the University of Florida, Aaron Spalding, bid on many and won a few.  He asked if he could visit since he was only two hours away. I wish I'd taken a picture of Aaron sitting on the floor surrounded but crappy wood mbiras.  He tuned them all (oh, they were supposed to be tuned?) and marked what key they were (oh, they have different keys?)  He visited again, bringing me a CD of his mbira music, and giving us advice on what qualities to ask for.  He also wrote an instruction sheet for beginning players that we sent with each 15-key mbira.  Here's the first paragraph of his instruction sheet:
"The mbira nunga-nunga or karimba is a plucked reed instrument (called thumb piano in the West) from the Shona people of Zimbabwe. Its main uses are for entertainment and dances but, as was shared with me by my teacher Tute Chigamba, any mbira can be played for the spirits. The music is more upbeat on this instrument compared with the larger mbira of the Shona, which is used in the "bira", the spiritual ceremony of the Shona. The name nyunga-nyunga means "sparkle-sparkle", a very good way to describe the sound of this mbira. Hosho are gourd shakers that often accompany mbira music."
At a Fair Trade Federation conference, I chatted with John Haden of Jamtown Music about the mbiras.  I felt a little guilty that I'd never really embraced the enthusiasm that musicians had for the instrument and was hoping John could help me with my mbira music anhedonia.  Ends up he has quite a history with this block of wood with rusty keys.
"Something about the sound of the Shona mbira music reaches deep into my soul," John  said. "I wanted to offer authentic thumb pianos from Zimbabwe so that others might experience a similar connection…so I travelled there in 1999  – with one name as my only contact. Shona versions of the mbira do not typically include an 8 key version, but I believed a 15 or more instrument would be too much instrument for the typically American consumer. So I travelled to the North by overnight train and was lucky to find producers that wanted to help create a 8 key thumb piano. I also wanted to produce a video to document my adventure and provide how-to-play instructions for the product.
" Upon my return to the USA, Recreational Equipment Inc (REI) committed to purchase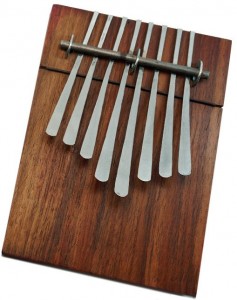 400 mbiras! I produced the video (on VHS!) that was included in the custom box which allowed consumers to touch and play the thumb piano. And the instructions were based on a specific scale. But to my dismay, the thumb pianos were not tuned very well….at all. So after tuning all of them – one by one – and assembling each in custom box, they were shipped to stores across America. Another lesson….the rigors of retail left most of the products disheveled at the local REI stores. And then I was unable to reorder the products again due to raw material shortages in Zimbabwe at the time. Live and learn. Try again. The 8 and 15 key offerings from Jamtown are from a new producer – and our second order is under production!"
Global Crafts had only carried the 15-key  and larger versions of the instrument, so I'm hoping the idea of an 8-key mbira is something I can get my head around.  Eight keys? Eight notes in a scale?  Could it be that simple? I probably should stick to the Hosho shaker, which Jamtown also carries.  It's not pretty but has great sound and is the perfect accompaniment for the mbira.