When we at Global Crafts became members of the Fair Trade Federation in 2005, we found we were a part of an interesting group; married couple-owned and operated wholesale businesses.  In our case, it was easy for us to make the decision when we returned from Kenya with no jobs, no kids, no home, to set up a business working with the Kenyan artisans we'd known for the previous 3 years.  Kevin and I met while teaching in the same school so we have always worked together since 1999.  To me, that was the secret to working with one's spouse: not knowing anything different.  But that's just one couple's opinion.  I asked other couples what they found to be the best and the worst of running a business with your spouse.
WorldFinds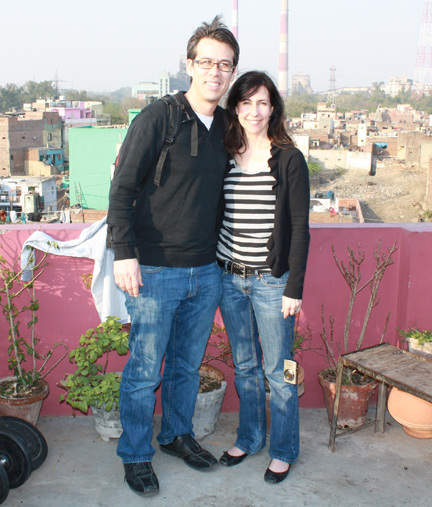 "Quite a few women have let me know that they would never ever ever be able to work with their husbands," Kelly Weinberger of WorldFinds says of the business she started with her husband, David Burns, in 1999. "I think it has worked so far for a number of reasons – we have different skill sets and we had already spent a lot of time together before working together.  The most difficult aspect is when we both have really strong, differing opinions on a critical issue.  Typically this happens in the area of marketing as we both have the majority of our previous work experience here. Eventually we come to an agreement – and remember we both want what's best for the company, we're just coming at it from different perspectives.  The most significant benefit is that our core strengths are very different. So we try to primarily focus on the areas of expertise that play on those strengths. And also it is really helpful to have a flexible work schedule with school-age kids – that's more of an owner thing versus a spouse thing but a huge benefit as well."
Ganesh Himal Trading
"In my husband, Ric's words, in the fall of 1984, over 32 years ago, we touched down on the runway in Kathmandu, not knowing that this simple touchdown would change the course of our lives," Denise Attwood writes. "Although we were pursuing degrees in law and environmental science, our time in Nepal convinced us to take a 180 degree turn and in 1984 we started the Fair Trade import business Ganesh Himal Trading working with small cottage industries and development aid projects in Nepal. Fast forward 32 years and here we are still doing the same business! It's working!We are happy to say that our partnership with producers in Nepal has resulted in great products, good income for the producers, a greater voice for women, education for their children, more stable communities and amazing relationships built over 30+ years of working together. We have all become the mutually interdependent friends and business partners we had hoped to create so many years ago.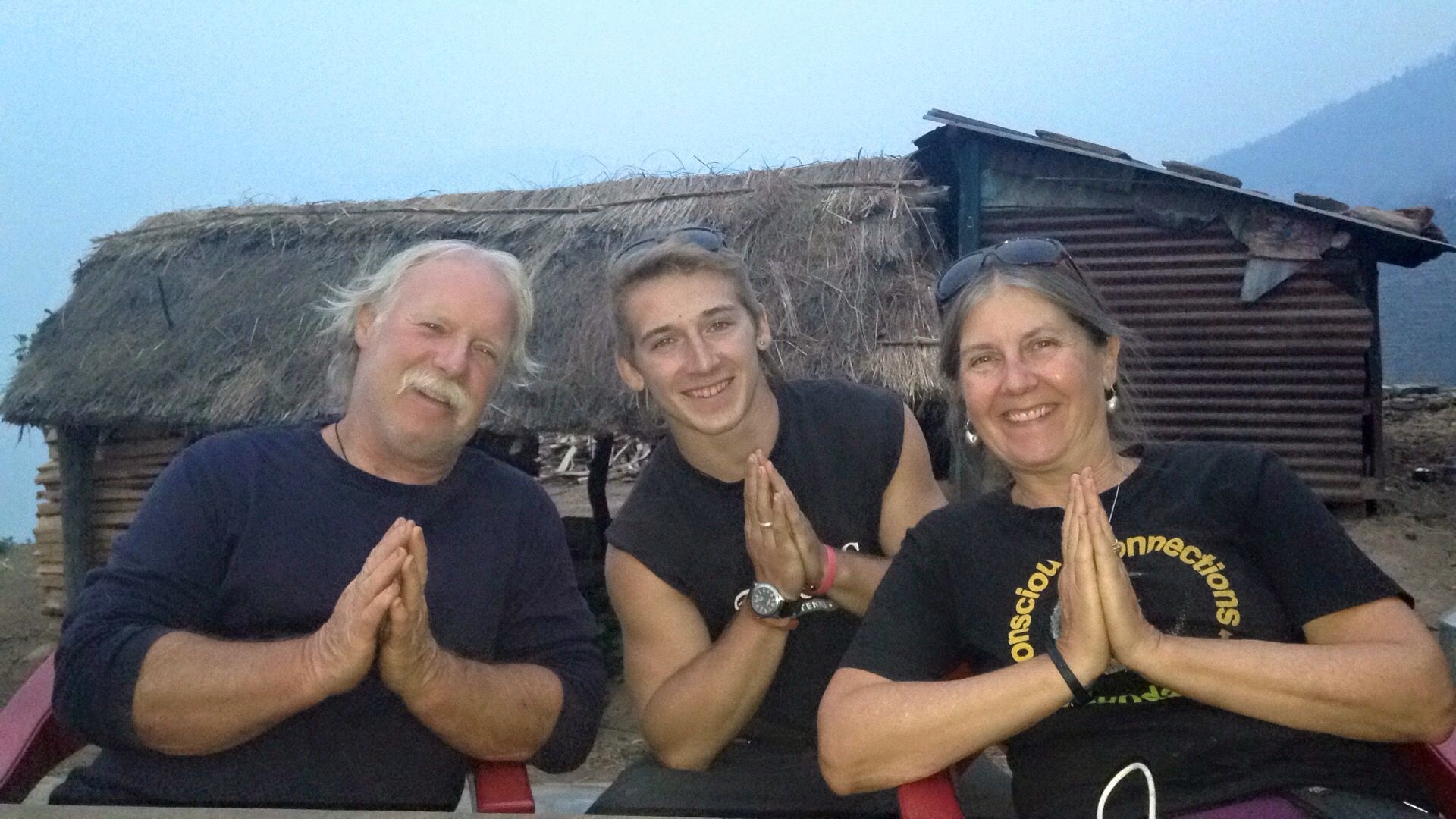 "Early on the most difficult thing  was that our business was our very first child and took so much time and care that we were at it all the time. We work out of our home so there was really no getting away from it.  For me that was easier since I love the work but for Ric I know it was hard because he wanted to get away from it and travel (his true passion). We really did try to balance that out though and with the advent of the internet that issue resolved itself because I could work from anywhere in the world and so we got to travel and work!!! As our business evolved and we had our son then it was just really busy but it all seemed to balance itself out. We honored in each other what we each needed to do and made time for that and had fun! Honestly there are so many benefits to working together that the difficulties seem pretty minute.
Ric and I are very different in our skill sets and our outlook. I'd say we are a good balance as a team. I want to do the social justice work and would probably give everything away  and he wants to make sure the business is financially sound and around for the long haul. I am a workaholic and he brings me back to a place of play.  I love to create systems that work smoothly and he is kind enough to step aside and let me have that control. He is hugely supportive of my need to be out in the community talking about fair trade and so does all of the shopping & cooking! We traveled together for 8 months on a very limited amount of money the first time we went to Nepal and I knew that if we could do those things together we could do anything. We have. We've built the business together, built a house (literally) together, started a non-profit together and parented a wonderful son together. When we had our son Cameron it was so wonderful to raise him around both of us and for him to see us both at work. Few children get to see that. It's really been quite a wonderful journey. I wouldn't do it with anyone else! I always tell people who are forming a business together that they should ask themselves if they would marry that person, because having a business partner is like being married. I did and I have the best business partner in the world!"
Kahiniwalla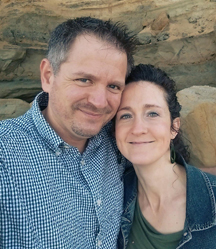 Austin and Marita Miller established Kahiniwalla in 2010. Upon his return from work as a product designer with Mennonite Central Committee's job creation program in Bangladesh, Austin wanted to continue helping to provide employment for the poor of Bangladesh and decided to do so by distributing their high quality handmade products in North America. "When we finally take time to sit down together to relax, work so often ends up entering into our conversation," writes Austin. "We also struggle to take the necessary time to address our own social/spiritual needs not always acknowledging that the health of our business and the health of our relationship is dependent upon our health as individuals."
When asked what the most significant benefit was of working with one's spouse, Austin wrote, "A shared vision and mission has been great for our marriage and has been a rewarding environment to raise our sons in."
Lucuma Designs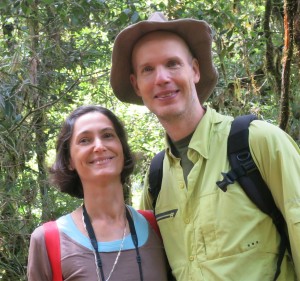 "With a conviction that one can only truly excel at what one loves doing, from our beginnings we had this desire to work and play at the same time!" Alessandra Bravo writes.  "So 18 years ago, Don [ Blackowiack] and I created Lucuma Designs as an outlet for our creativity, while hoping to put our talents to good use.  Pairing a deep appreciation for Peruvian folk art and my desire to give back to the people in my country, together with our interest in this new technology called 'the web', Lucuma.com was born.  Although not all has been easy or playful, Don and I worked it out as a team and have been able to promote our original mission since 1998. Today we keep working to bring more beauty into this world through our fair trade commitment, original handmade gifts, and our desire to spread cheer and smiles to buyers and makers alike.
"Building a business as a couple has been a wonderful experience.  We complement each other and are lucky to share similar interests, goals and the occasional crazy idea.  This has allowed us to enjoy much more time together, learn from each other, support and help each other grow.  Besides spending time with the person we love, another big plus is trusting the motivations and intentions of your partner with closed eyes, even if sometimes we may disagree on opinions or decisions, it is a luxury that brings peace of mind not all business partnerships can claim.
"When two passionate workaholics join forces, it is inevitable that work follows you 24/7 everywhere!  Not knowing when to stop has been a problem for many years, but life has a way to restore balance where it is lacking.  For the past couple of years, for a variety of reasons, we have been pushed to slow down.  We are trying now to set better boundaries between our personal life and work. Another challenge of mingling work with romance has been the difficulty of knowing who leads who? So synchronizing our efforts has not always been easy.  To keep the harmony in our relationship, many times we do look the other way and forgive occasional mismatches on professionalism, work efficiencies, rebellious nature, etc. from both sides.  Also having two bosses can be at times tricky for employees.  To avoid confusion, we try to clearly mark our own areas of responsibility while trying not to step on each other's feet too often… all of course while trying to have some fun!"
Global Groove Life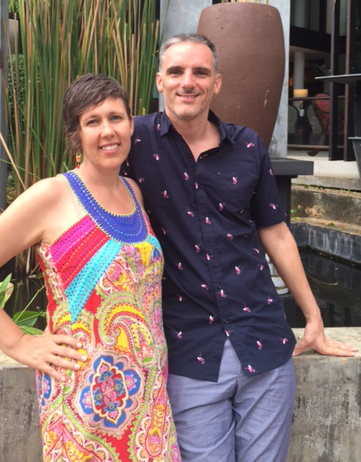 Gina and Greg Hope's journey into the world of Fair Trade began when they started traveling in 1997 and purchased their first batch of Kashmiri Christmas tree ornaments. In 2004, during their first buying trip with children in tow, they witnessed the natural spirit of giving and receiving in India, when their then three-year-old son smiled broadly and handed his too-small clothing to a street boy in New Delhi. Completely lacking judgment, it was the true nature of giving and receiving. Global Groove Life is an extension of this spirit.
"The best aspect of working together," writes Greg, "is that we are able to pursue and share in so many of our passions – working with and learning from indigenous Artisan's and their families, living and traveling in countries that we've come to love, designing with beautiful ethnic fabrics and finally sharing stories with our friends, family, team and customers. The worst aspect is the very challenging balancing act that is our life, constantly adapting and adjusting to new information, experiences, situations and challenges including time spent apart, personal inefficiencies permeating business, attempting to find time when we don't discuss business, having a "normal" weekend, setting aside down time. Being in business together is a shared labor of love which can become all-consuming with the risk of detracting from getting personal needs met."
Conserve India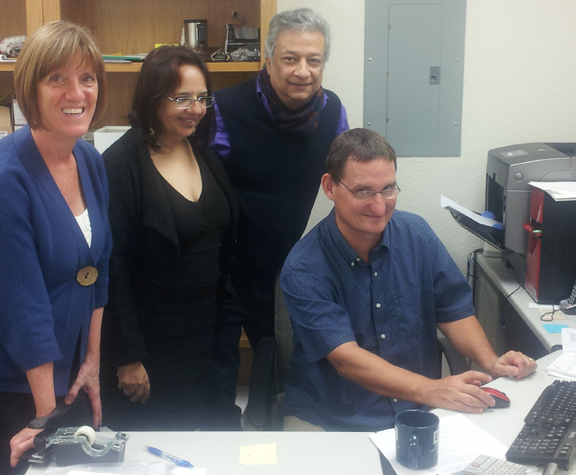 Global Crafts has had a long-term business relationship with Conserve India, a fair trade producer organization that was started by the married couple, Anita and Shalabh Ahuja. "Conserve India was born of a desire to reduce India's mountain of waste," writes co-founder Anita Ahuja of the India-based organization. After a lot of research, we struck upon a solution- recycling plastic waste into sheets of plastic which could be further turned into beautiful bags. The project not only solved a huge waste management issue, but also created jobs for one of the city's poorest communities, rag pickers. Going in, we knew that we had to divide and conquer our roles. Our varied strengths and divided responsibilities made us experts and let us excel at different areas of the business. We compliment each other well because while I concentrate on innovation and the social aspect, my husband Shalabh looks over sales, marketing and procurement.
"The biggest advantage of working together has been that we trust each other's decisions fully. Working with your spouse can be a very fulfilling experience because you know all decisions are being made with each other's well-being in mind. The added bonus is the fact that you are able to share your personal and professional concerns, fears and hopes.
"While there is nothing more rewarding than sharing success with your partner the process can be difficult. The biggest challenge has been setting up boundaries that ensure a business dispute does not become a personal one. When you co- own a business it is very important to set aside time to do certain activities that do not involve work. Building a business together often means blending business and personal lives, but setting time to focus on the relationship is vital and also provides the necessary stress relief."
Global Crafts
Starting Global Crafts after working together in Kenya at the same polytechnic in the same computer department, it seemed as if the business would just be an extension of a successful partnership.  It was an amazing opportunity to start something from scratch, with me having no desire to return to the corporate IT career I left three years before and Kevin having never worked in the US.  We were able to take risks that often couples aren't able to take because of obligations that may require one of them be gainfully employed at least part time.  I agree with the common complaint that when you work with your spouse, the conversation outside of the workplace is often monopolized by work.  But with us, that's okay — we can only talk so much about what bad thing the dog ate and we actually get a lot of work done during an evening out, with problems often solved on the back of a napkin or with sugar packets.  On the other hand, we have not been able to take a week-long vacation since we started the business in 2002, except the occasional trip to England in January to visit Kevin's family.   It has taken us years to determine the roles we each have in the business.  Kevin is the visionary, strategic thinker, problem solver and I correct his grammar.  So actually, we're a perfect match.
I only scratched the surface of this subject with fair trade wholesalers and one producer organization. I know there are many retail organizations that are run by couples — we'd love to hear how you do it! Any secrets that you'd like to share about working as a couple? You can comment on this blog post or post on our Facebook page.