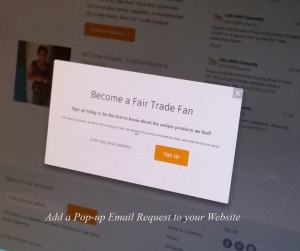 Last month we discussed how to plan an event like a pro. What we didn't discuss, but is just as important, is how to grow your attendee list. This month's focus is on how to build your email subscribers and improve your email open rate as a key marketing tool.
According to a report release by The Radicati Group, a market research firm, consumer email accounts currently make up the vast majority of worldwide email accounts, accounting for 76% of worldwide email accounts in 2013. Over 100 billion emails are sent and received per day in 2013 and if the trend continues, we can expect over 132 billion emails by the end of next year.
It's no surprise that email remains the predominant form of communication in the business space: it's easy, it's fast, it's relatively inexpensive and if you can get the right message to the right person, it's very cost-effective from a marketing standpoint.
For all the benefits emails affords when it comes to communicating with customers, the challenge is getting those email addresses in the first place and then getting those customers to open their emails and act on your message.
Let's Get Started: How to Grow Your Email Subscribers
Make it easy for customers to add their email address. Don't require their address, phone number or blood type. It's unnecessary and makes people nervous to share such personal info.
Remind customers to subscribe (and tell them why) via social media sites like Twitter and Facebook. Some platforms (like Facebook) allow you to add email subscribers through a third-party app.
Reconnect with inactive subscribers. They're your low-hanging fruit. They subscribed at one point so you need to find out why they're not opening your emails anymore. Reach out to them to see if it's your material that's not appealing or if it's hitting their Spam box. You want a clean list and by reaching out to them, you're more likely to impress them by showing your care and they'll be on the lookout for your emails.
To care is to share. Are your e-newsletters "share-worthy"? If not, think about what you can do to make them shareable and then ask people to share it with one friend. Often it's the content that makes it share-worthy (like something really new and exciting) or a great image. Keep in mind that your e-newsletter needn't be all about your shop. It could be about something cool happening in your community that you're among the first to learn (and can share), something neat like a historical building's recently uncovered secret or you've learned how a particular item is made and you've included a link to a video in your e-newsletter. Aim to make one e-newsletter a month "share-worthy" to see how that impacts your subscriber list numbers.
Ask customers at check-out (this applies more to brick and mortar shops than online) if you can add their email to your list. Offer them a special deal like a percentage off next time they come in (or right then so they can use it immediately and then send them another once you add them).
This will take time to build but it's an important part of your marketing strategy to consider: blog instead of sending out random emails every week. I'm a big fan of sending out emails every week (on the same day and at the same time). Rather than trying to come up with new content for an e-mail newsletter, take the time to write out a weekly blog which you can then use as part of your email newsletter. Not only will it be packed with richer content, but the blog post is one of those "share-worthy" emails and lets you include more info which many customers like.
Guest blog monthly. Here's another monthly to-do list item: offer to write a guest blog post on another blog. While you don't have a finite list of customers, you can expand your reach by offering to provide quality content on a complementary business's blog. At the end of the blog post, let readers know of your email newsletter. Offer to let the other company provide a guest blog post for your business, too.
Sell your soul. OK, maybe not your soul but the point is you need to sell yourself everyday. Tell people about your email newsletter at every point you can. Include it as a little sign by your cash wrap, let customers ask you to be added to your email list, add it on your landing page of your website, remind customers in guest posts that you have an email newsletter, etc.
Grab emails at events. Ask for emails from sign-up to event execution.
Finally, welcome new subscribers with an email and ask them if they have any friends who might appreciate the email as well. Offer to give both the initial subscriber and every new email subscriber a percentage off their next purchase from your shop.
Later this month we're going to discuss how to increase our email open rate with 10 more tips. Stay tuned!