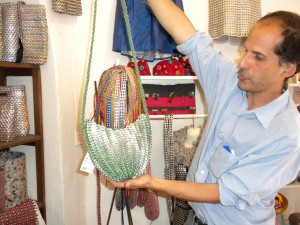 In 2010, we met Arturo Buenrostro when we were traveling through San Miguel de Allende, a colonial town in central Mexico known by many Americans as a great place to retire.  Many Fair Trade craftspeople worldwide have artistic skills and choose to make products out of discarded material like paper, tires, tin cans, bottle tops, seat belts, etc. because the materials are readily available, less expensive, and gives the products a marketing story.  It was different for Arturo.  His first passion was addressing the large problem of trash throughout Mexico.  He realized that the environmental issues in Mexico were a bi-product of poverty.  In his own words, Arturo explains his motivation and his mission for starting BIO Imaginarte to help address environmental issues and poverty in his country.
What did you do before you started BIO Imaginarte?
I went traveling around Europe on a very small budget and I met a person who followed anthroposophy, where one learned more about oneself.  When I returned to Mexico I  started to document enviromental issues and then I published two small books call reduce , reuse, and recycle and in 20 years I have sold 100,000 copies.  Then  I made a little book call the World of Composting.  I started in education because that's where you may have some results.  I went to give hundreds of talks about enviromental protection and then companies started to call me and I started to make programs for companies.  I taught how to make wells to save water,  how to grow your own food and some others.
How did you come up with the idea for the bags?
My father is a graphic designer so I think I inherited observation and the ability to do things just by puting my hands on it.  We started to use garbage materials and give work shops to make all kinds of useful things, decorative things and toys.  We travelled around Mexico giving workshops on how to make things from trash. We put collection boxes in schools for the pop top tabs, which went along with the presentations I gave to the students.
How did you start selling the bags?
We start selling at environmental fairs in Mexico, then in 2001 we went to a fair in Nashville.  We sold 1000 bags.  We then started to sell with a man in Texas our inner tube bags.  We started to sell it in some shops and so we sold in markets and everywhere there was a opportunity to do it so we can support our NGO organization by making our own things.
I went to Texas, walking across the border with 100 bags, that I was allowed to bring into the US because of NAFTA, and deliver them to a man who would help sell them.   I then went to Cancun to find a market in European resorts, selling in boutique shops in hotels to tourists. At the same time we were finding shops in tourist towns around Mexico. I arrived in San Miguel  and began selling bags in five stores until we found the little space we have now.  I started to make contacts with people  in the US including Global Crafts.
Who makes the bags?
The first women we found who wanted to make the bags were in the state of Zacatecas where we were invited to do a workshop for women who did not have job.  The women worked from home supporting their families.  We would buy the bags they made.
The bags are now mostly made by five sisters who live in the town of Guanajuato.  They sew together the pop-tops.  One man, Chuco, makes the inner tube part of the bags.  They all work from home so they can spend time with their families.
What makes you proud of BIO Imaginarte?
What is interesting about our organization is that we have built something out of nothing, out of what is call garbage. Using our  own resourses and trying to be sustainable, we have create products that talk everywhere they go because they have become like a piece of conversation for many people so this is important for us. What is interesting is that we live day by day because we believe in what we do and we try every day to keep the work of our 12 people who work with us so they can have a way of living.
Who are the artisans of BIO Imaginarte?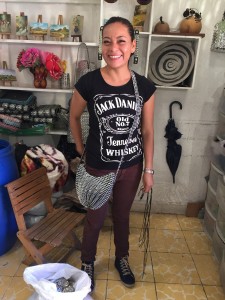 Julie is one of five sisters that works with Bio Imaginarte. She lives with her boyfriend in San Miguel de Allende, working in Bio's small retail shop three days a week and working at home making pop top bags the rest of the week. Julie said she wanted to work with Arturo because the bags caught her eye, and she really wanted to learn how to make them. Julie loves her job. She loves interacting with customers and making bags. Another job like her previous work in restaurants would be much harder and the pay much less, she considers this job a true diversion.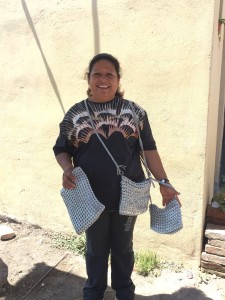 Emy (Emiliana) is another one of the five sisters working with Arturo, and has been with Bio for 7 years. She has three children and works from home, so she gets to spend a lot of time with her kids. She started off with Bio when a local charity group learned that she needed a job. They put her in touch with Bio, and she started of making small bags and bracelets. Now Emy makes specialized crocheted poptop bags. She says they are more complicated but more fun, and she earns more for them. A good day for Emy is any day she wakes up healthy and energized, but it's a particularly good day when she can earn good money doing a job she loves in the comfort of her own home.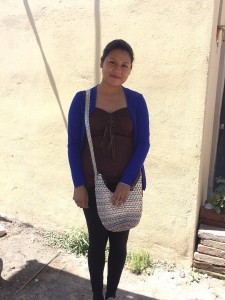 Lola is the youngest of the sisters working for Bio. She loves spending time wih her sisters and lives with Emy, so they get to work together. She like making the bags because she can listen to music and it is entertaining. She makes several kinds of bags, but she likes the Multi-color hobo bags the best. She's been doing this work for four years. It's been her only job, but she can't imagine doing anything else. She hopes to go to the States someday; perhaps her work with Bio will take her there.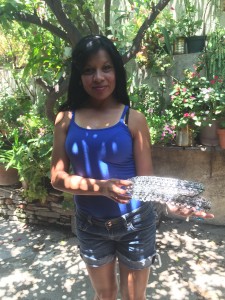 Mary has also been working with Arturo and BIO Imaginarte for about 7 years. She makes about 4 different designs including the Roxy Bags and the small Cellphone bags. She is a runner, and in her free time she is training for races or caring for her son and daughter. Mary used to work in restaurants, but when she gave birth to her daughter that work became very difficult with longs hours on her feet. She enjoys her work with Bio Imaginarte because she has more time to concentrate on her family and running, and she makes enough money to be independent and support her family herself.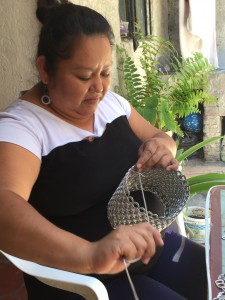 Josefina is a dedicated mother of one and hard-working member of the Bio Imaginarte team. She started off helping her older sister Emy complete her orders for small pop-top coin purses, and has since then moved on to Serena bags and pencil cases. Arturo notes that her bags are exceptional for their tightly-woven stitching. With this work Josefina has time to dedicate to her children, as well as help her older sister care for her kids, as she works a lot. Josefina says this work as made her life much better, because she has time for her daughter, her family, and herself.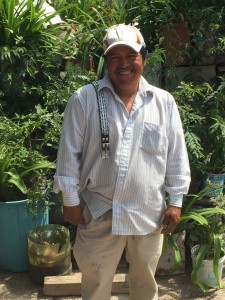 Chucho (Jesus) is responsible for the construction of the bags that include inner tube. Chucho loves to work, he and his wife live next door to the school their children go to and are able to work at home and spend time with them when they come home. He likes watching soccer and going to the park with his family. Chucho used to work in construction, but his job was unstable and the work was demanding. He came to Arturo looking for a job, and Arturo gave him a pop-top bag, all the materials he would need to make it and told Chucho to copy it. He was back in two days with an identical bag. Chucho has a keen eye, and does most of his measuring for the bags by eye. The inner tubes are heavy and hard to work with, but he likes his job because he gets to create something outdoors in the fresh air in the company of his wife and kids.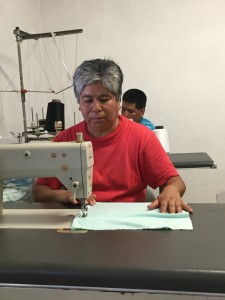 Pedro and Martina are a brother and sister duo responsible for creating the linings in the Bio Imaginarte pop-top bags. Martina has been working since she was eight years old cleaning homes, taking care of families, children and pets in order to provide for her own family, including her younger brother Pedro. Though she is passionate about all the work she's had, sewing is her favorite. She got Pedro into her business after his bosses stopped paying him at the factory where he worked. The pair also make women's clothing to sell in markets, but the work with Bio provides a steady supplemental income. The two work very hard, as often as possible. The money they make allows them to support themselves and care for their many friends and extensive family.
Click here to see the video of the artisans. 
If you are interested in carrying Bio Imaginarte bags in your store, visit Global Crafts.