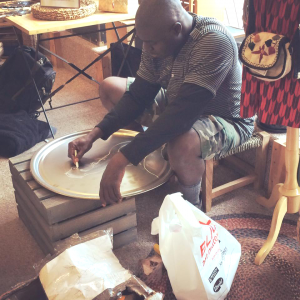 The phone call from Rich Howard-Williams from Plowsharing Crafts this past year was a surprise.  I had arranged for Carlo Brutus – a Haitian metal artisan who has acted as a coordinator for our orders since 2007 – to demonstrate the art of making the metal wall art for which Haiti is known at Plowsharing's 30th Anniversary event.  I knew Carlo had a passport and was told that he visited family in New Jersey regularly so it seemed logistically perfect.  If he happened to be in New Jersey at the time of the event, Plowsharing could arrange domestic flights.
We had a relationship with Greif a company that manufactured industrial packaging, including the steel containers like those the Haitian metal artisans use for their art. Greif frequently purchased wall art as corporate gifts and was delighted when I asked if they would consider providing us some lids (Carlo called them "lips") for Carlo to use for the demonstration.  On their dime, they sent us a pallet of shiny steel lids.  It was at this point that I knew there was going to be a bit more work to this project than I anticipated.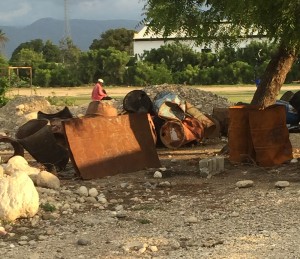 I emailed Carlo and asked what had to be done to the lids to get them to the state where they would have that natural patina of the metal art.  He replied we would have to soak them for many days.  And then burn them.  I had visions of us setting the metal on fire in our warehouse parking lot, with a fire station conveniently one block away.  Plan B: Import "prepared" uncut metal from Haiti.  And let's include his tools in the next inbound shipment – what would TSA think about a hammer and chisel in Carlo's carry-on?
Over the next few months, we worked on Carlo's logistics.  By now Joan Frisz of Just Creations had said that she too would love to have Carlo do demonstrations so his trip was triangulating from New Jersey to St. Louis, to Louisville.  It was all coming together.
Rich's phone call came after he met Carlo.
"Carlo lives in New Jersey," Rich said.  I knew he spent a lot of time there with family but I hadn't realized that it was his immediate family – his wife and two daughters – who had moved to Newark.  While Carlo had earned his living for years as a metal artisan, finally setting up his own workshop in Croix des Bouquets and training and employing apprentices whose careers would be similar to his, his success as both an artisan and a coordinator for our monthly orders had positioned him to take the opportunity to leave Haiti.  The workshop was still operating, the funds for payment were still going to Haiti, the other artisans were happy with the arrangement (they all had our email address and communicated with us regularly so we knew we would have heard if there had been any payment issues), and we were still receiving regular shipments.  So did it matter?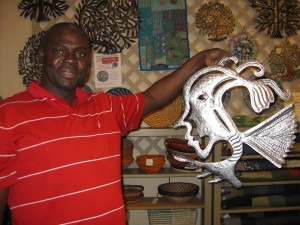 It was an unusual story in the Fair Trade world.  Usually you'd hear that fair trade relationships have enabled the children of artisans to attend school, even higher education, or that communities have built schools, hospitals, or community centers.  But not only did Carlo himself leave Haiti with his business still operating and he still seamlessly coordinated orders from tens of other artisans including order consolidation and transport, he had taken a job in a New Jersey factory.  While he still commutes to Haiti on a regular basis, it took us a while to get our head around it.
We met Carlo in 2007 on a trip to Haiti sponsored by FAVACA, an organization that built relationships between the state of Florida and businesses and organizations in the Caribbean.  After attending a crafts fair, we asked if we could visit Croix des Bouquets, the area of Port-au-Prince where the metal pieces were made.  Workshops ranged from brick showrooms to one-room shacks but one thing was constant – the tink-tink-tink sound of hammers pounding metal.  Through the woman who worked for Aid to Artisans who was acting as an interpreter, Carlo explained to us how what had started as an artisan industry using discarded drums readily available from shipping containers when there was a large amount of US trade, now relied on importing the used drums specifically for the art, greatly increasing the costs of production.
We placed our first small order the next week, only finding out then that Carlo did not have a bank account to receive the funds, nor an export license.  At the time we were already carrying Haitian products from Drexco (now Caribbean Craft) who agreed to receive and distribute the payments as well as export the goods on the behalf of the artisan workshops.  For three years Carlo delivered products to the Drexco workshop where they were packed and shipped to us, with Drexco handing the advances and final payments.  And then in 2010, the earthquake struck.
About a week after the earthquake we started hearing reports.   The Drexco workshop was destroyed. The organization was frantically trying to ensure the health and safety of its artisans and their families and set up a make shift camp on a tennis court.  Two weeks after the earthquake, some infrastructure was restored and we received an email from Carlo.  "We are okay," it said. "We have metal to send."
We were relieved yet felt helpless.  We wanted to send money but Drexco wasn't in any position to act as our go-between.  A few days later, we received another email from Carlo with banking information in his name.  Within a week, Carlo had managed to deliver the large metal pieces to a cargo company whose planes were being used to bring in supplies, the cargo holds empty for the trips from Haiti to the US.  As aid went in to Haiti, metalwork came out.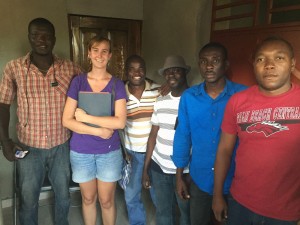 Since the earthquake, Global Crafts has purchased half a million dollars of Haitian metalwork from the Croix des Bouquets artisans.  Carlo has provided our email addresses to artisans, who send us images of new products daily so our monthly orders always include new designs.  During Caitie's visit to Haiti last year, Carlo invited her to a meeting of several of the artisan workshop representatives who were working on establishing a cooperative business organization, Cite d'Art.  Not knowing Haitian Creole, she did not get much of the details of the meeting but she felt that the artisans had great respect for each other and their businesses.  The documents for the organization list Carlo as the co-founder.
So while we were surprised to hear that Carlo lived in New Jersey with frequent trips to Haiti, we were happy that the success of his business has enabled him to determine his own and his family's future.  We are confident that our relationship will continue to provide sustainable income for Haitian artisans.   And having an artisan living in the US makes for easy store demonstrations – we still have lots of lids.