Barkweave cloth — not to be confused with bark cloth made from tree bark — is cotton fabric with an amazing texture that is the basis for the high-quality traditional Sadza batiks from Zimbabwe. If you've handled any of the Zimbabwe batiks, you know the texture and thickness and can understand how important the fabric is as the medium for the batik.  Late last year we received a message from Jeremiah Makaza who started Tonga Textiles saying that he was no longer going to be able to source the barkweave cloth.  The owner of the only factory in Zimbabwe is an elderly man who no longer wanted to operate this business.  On several orders over the past years, sourcing the fabric significantly delayed production and forced artisans to look for other employment. While we were concerned about the quality of the batiks if they were on regular cotton fabric, we were willing to try migrating from the barkweave cloth to traditional cotton fabric to help ensure some stability in the business.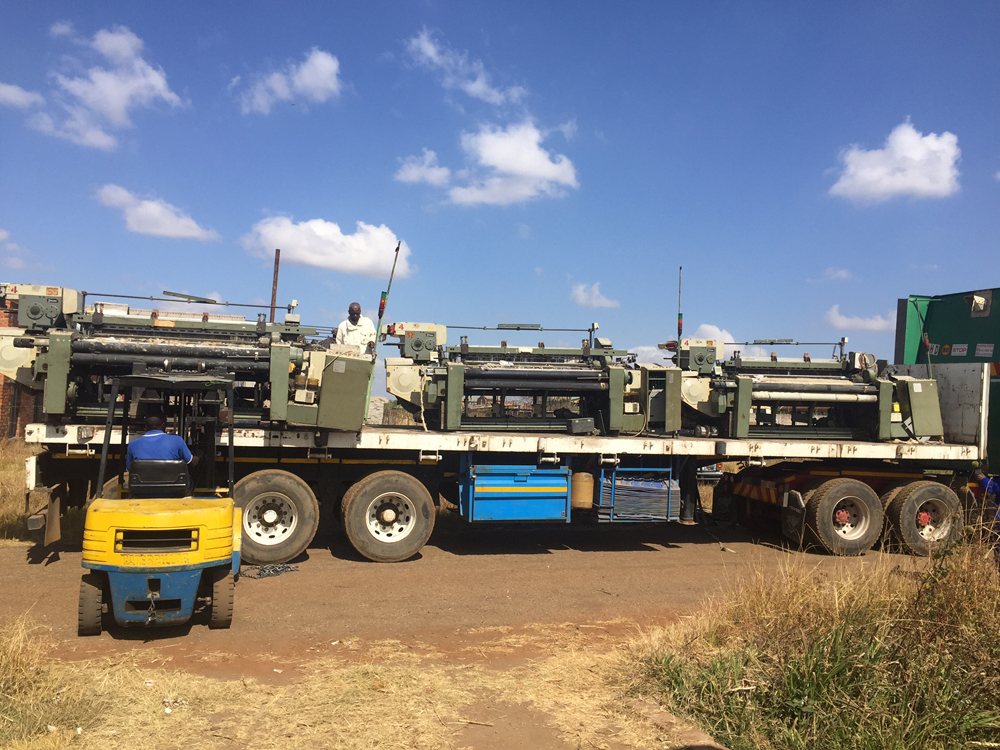 We placed an order last month and were delighted to hear that Jeremiah was going to be able to source the barkweave material. Well actually, he was going to manufacture it. The cream-colored material is used in many aspects of Zimbabwean life, such as unprinted curtains and other soft home décor and the loss of the manufacturer would require the locals to rely on more imports.  Jeremiah approached the factory owner about purchasing two of the machines. "He preferred to sell the machines to me because I was his trusted client when I was buying the barkweave from him," Jeremiah said, "and he felt I need them most and will take care of the machines."  Tonga Textiles will not only be able to manufacture the material for its batiks but also sell the fabric locally.  With the purchase, the owner has also included training on how to work the machines. "Mr. Smith has offered his two trusted technicians to do the training. They will weave the first 4000 meters of fabric under the watchful eyes of two Tonga Textiles employees to learn from Mr. Smith's technicians."  Jeremiah anticipates it will take three months.  Being able to control the production of the material for the batiks as well producing material that can be sold throughout Zimbabwe will enable Tonga Textiles to grow.  It is a big investment that hopefully will result in sustainable income, employment, and growth in a country that struggles with all of these.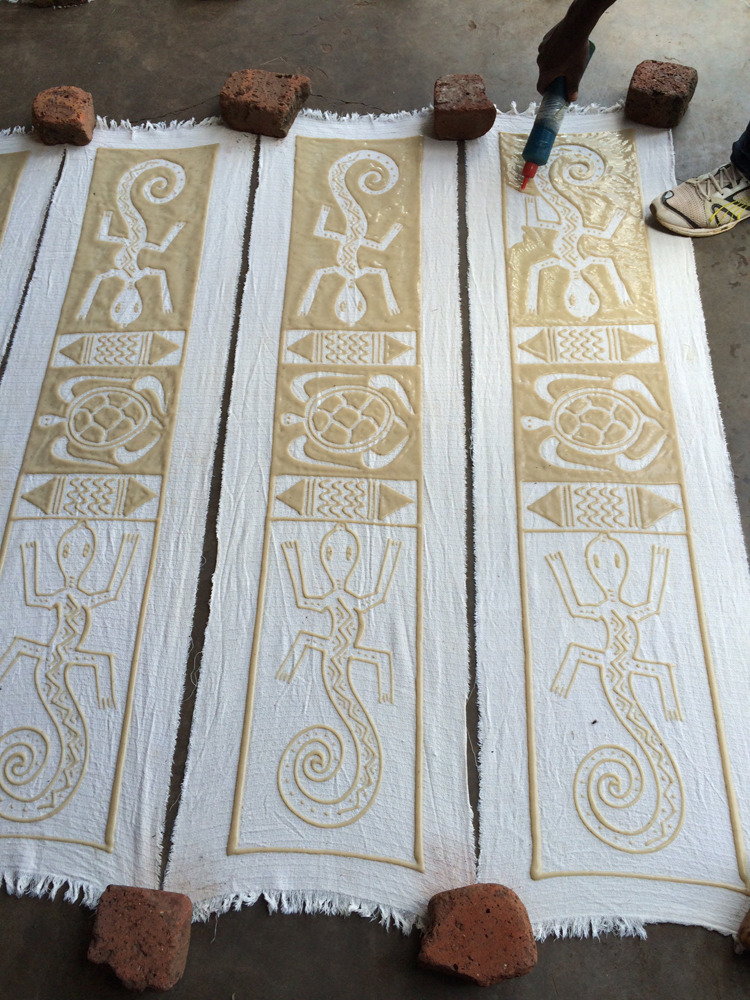 Jeremiah Makaza moved from a Zimbabwean village to Harare and was employed as garden and house cleaner by a British couple. He worked for this family for over 15 years and they left him $2000 in their will. He decided to use this money to start a sewing business using dress making skills he had learned at school. For three years his sewing business thrived because he could design cut and sew anything that anyone could ask for.
A friend who was doing batiks was bringing his pieces to Jeremiah for sewing. Jeremiah did not think the quality of the batiks was as good as it could be yet his friend was making a better income from them than Jeremiah was from sewing.  He told my wife he thought he could do better batiks and his wife suggested he try it.
Jeremiah learned batik technics from chemical suppliers and because he did not want to copy from his friend, he started on very different prints from what my friend was doing. With my sewing knowledge he had an extra advantage.
In 1992 his work was noticed by a patron who funded a six-month trip to India to study textile design. When he returned, he started Tonga Textiles, which employed up to 72 full time personnel in jobs ranging from artists, to painters, cleaners and tailors.  The business was so successful that Jeremiah was able to purchase his first house as well as purchase six other houses for the first six workers.
"We became the largest and best hand textile printers still today," Jeremiah said. "Even with our economy being bad we still have a workforce of 25 employees."  With the installation of the two weaving machines, Jeremiah anticipates the workforce to grow to include those that operate the machines, sell the material, and process orders.
The pride Jeremiah takes in the Tonga Textiles products is obvious. When we asked about producing batiked placemats, he insisted that they be finished on the back with tie-dyed cotton, which we thought would add unnecessarily to the cost.  Long email conversations with lots of pictures resulted in the batiks having the fabric backs.  His background in tailoring and knowledge of fabric ensured that we received a high-quality product.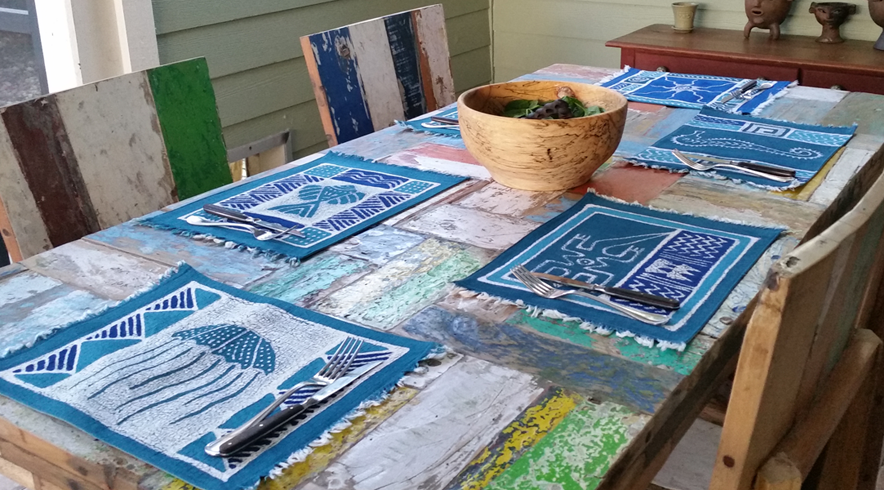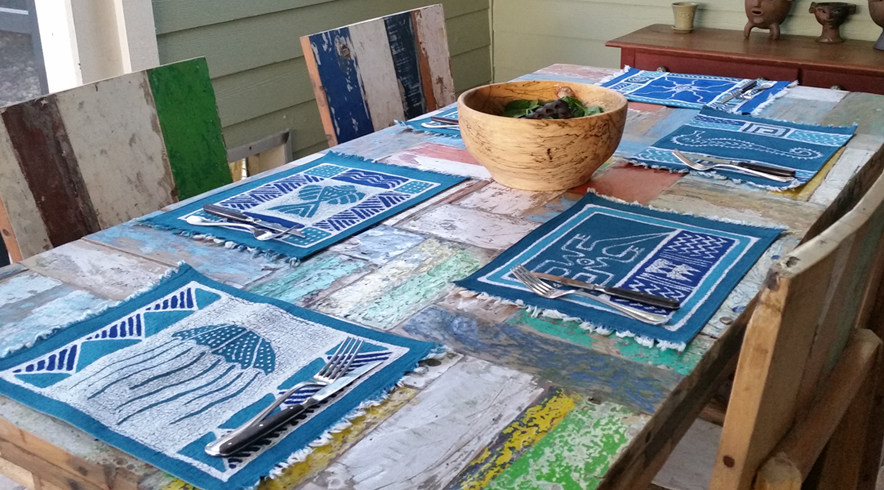 We are thrilled to see Jeremiah and Tonga Textiles head down this new path and look forward to growing our fair trade partnership. If you'd like to read more about the business, visit their website, TongaTextiles.com or find it on Facebook.
Global Crafts offers placemats, tablerunners, and wall hangings in a wide variety of designs for wholesale. We'd love to be able to introduce new designs so if you have any ideas, please send them our way or contact Jeremiah directly.