Here at Global Crafts, we're avoidists.  We try to take the path of least resistance to keep our blood pressures low.  So as we learned about the laws and regulations of importing and distributing products for children, we did what we thought we should do — run.  Anything we had with small parts clearly were marked for adults only.  We tested jewelry and painted items but realized that a successful test was only at best good for a shipment, at worst good for the single product because artisans often work from home and may run out of yellow paint and buy some at a local market. So my hat is off to you Fair Traders who persevere and bring in some of the cutest toys, accessories, and clothing that I have ever seen.  I know the effort required to bring these products in and imagine that retailers will want to know, if they don't already, the arduous process you go through to put these products on their shelves.
Laws? What Laws?
Ignorance is bliss, with one big exception, US Customs.  In 2008 the Consumer Product Safety Improvement Act (with the roll-off-your-tongue acronym CPSIA) mandated that the voluntary toy safety standard then in effect become a nationwide mandatory children's product safety rule.  If you're into this "standard" thing (or need something to read to put you to sleep), here's a link to the Consumer Product Safety Commission's rules requiring third party testing and a children's product certificate.  I'm sure the details of these rules are available for free somewhere but the CPSC site sends you to a site where you have to pay $76 for a 68-page PDF copy of the standard for just toy safety.  But as an importer of fair trade children's products, this cost is just the beginning.
What and How – Considerations for Kids' Products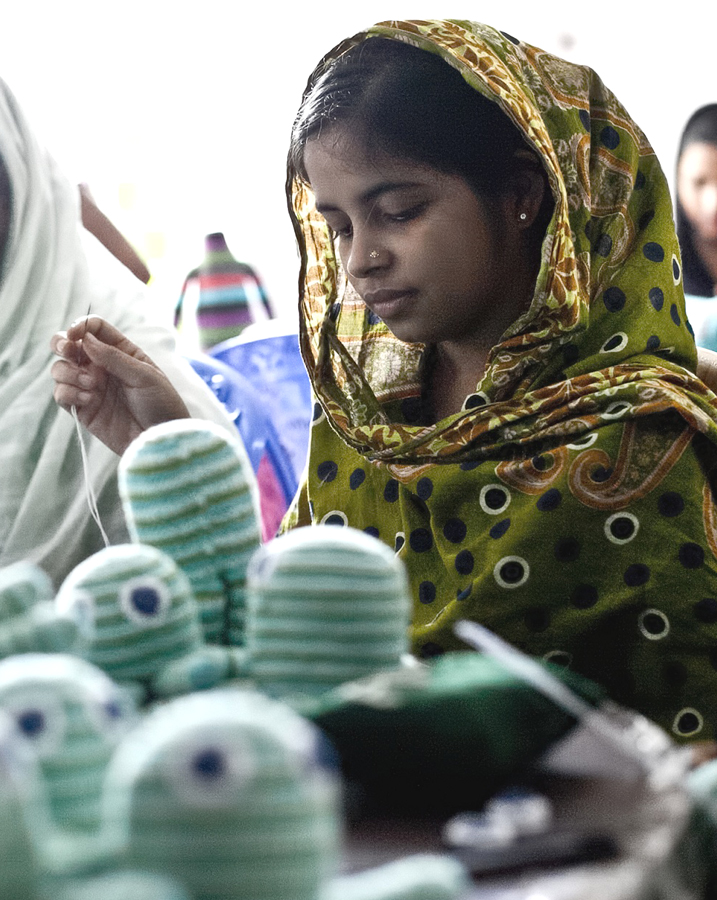 "Safety is taken into consideration early on in the design and product development stage," writes Marita Miller with Kahiniwalla, an FTF member organization that works with the WFTO member Pebble in Bangladesh. "We have to do different testing for different locations and can't just assume that because we have tested in the US that we can sell in Canada or Europe. California has their own special testing requirements under Prop 65."  It's not just about the material used to make the product. "Before shipment all items pass through a magnetic machine as a final check to ensure that no embroidery needles accidentally find their way into the product. If a needle breaks during the embroidery process, they need to place the broken pieces of the needle in a needle register to ensure there are no missing pieces. An incident report is filed if a needle ever breaks."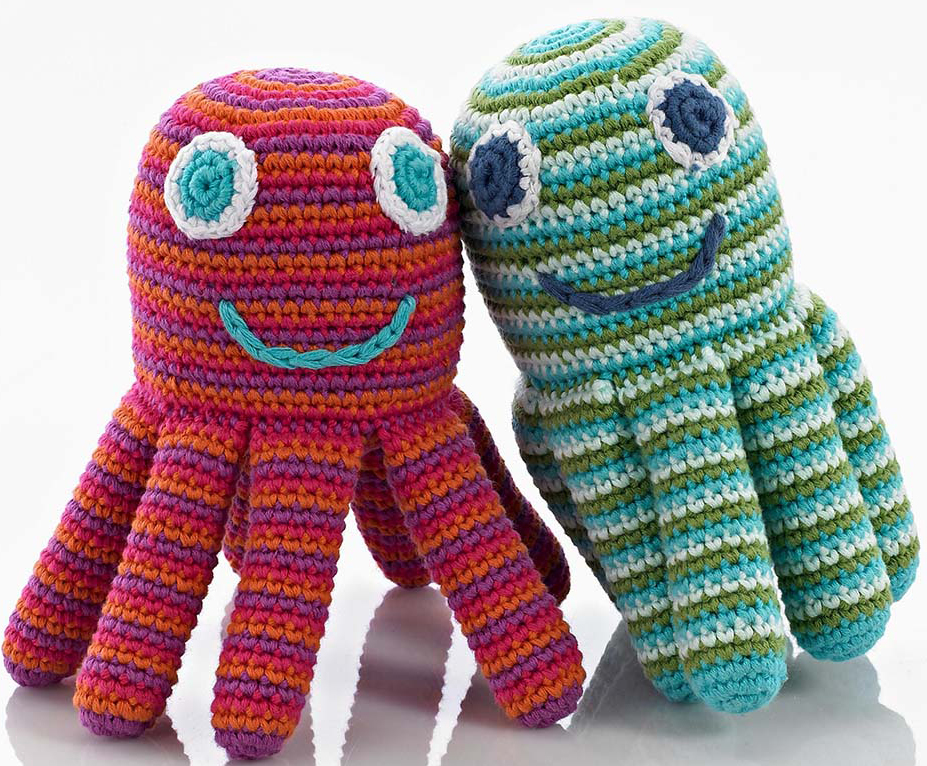 "We recently added the rattles to our site," writes Caitlin Beas of The Little Market of the Kahiniwalla children's products. "We have been very impressed by the cute designs and quality.  Customers are very excited to be able to purchase baby gifts that they can feel good about.  They look very cute displayed in baskets."  Did we mention, they pass the toy safety standard?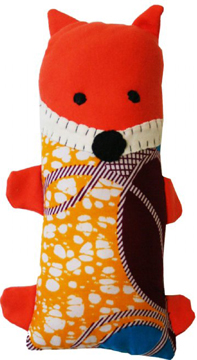 "We have designed the Little Friends to intentionally have no small parts," writes Marissa Saints of Dsenyo.  "All facial features have been hand-embroidered with needle and thread.  Dsenyo is registered as a small batch manufacturer and issued a Children's Product Certificate of Compliance (CPC) annually.  The toys comply to the following Consumer Product Safety Commission (CPSC) children's product safety rules:
16 CFR 1500.91 d.7. Lead Content: Textiles
15 U.S.C. § 1278a Ban on Total Lead Content in Excess of 100 ppm in Children's Products
4.3.7 (ASTM F963-11), Stuffing Materials
4.27 (ASTM F963-11), Stuffed and Beanbag-Type Toys
The products are imported and labeled with all required information in compliance with product safety laws."  Yikes!   In addition, several states including Pennsylvania and Massachusetts require specific Stuffed Toy Registrations, certifying the stuffing.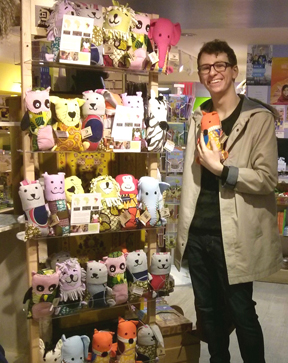 Even though the Little Friends scored high on meeting safety requirements, Anna Stypulkowski of Book Culture finds the bestselling feature of the Little Friends is, "[t]he beautiful patterned textiles that are used, as well as the variety of animals that are made using such a simple form. They are adorable, and they are stylized depictions of the animals that are different from the other toys we carry. They are unique! As soon as customers learn about the artisans making them, they are very enthusiastic about supporting them. 'I'll do it, for the women of Zambia!' customers like to say as they bring it to the counter. We're displaying them on the stand next to our other stuffed animals with postcards with more information about the way they are made mixed in. We also like putting them in a woven basket on a table with other sideline items."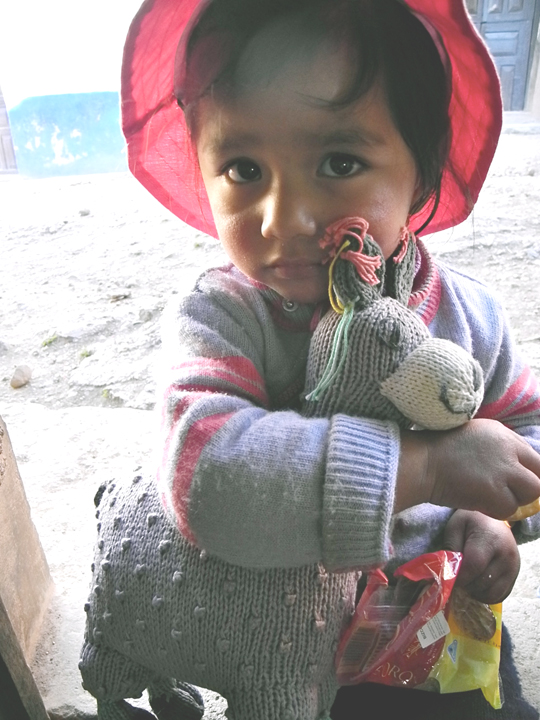 Cheryl Musch of Partners for Just Trade echoes the safety considerations that go into the design of the knit llamas that have been a Fair Trade favorite for a long time. "[T]he key issues we're looking at for children's products is a) all new materials, in this case cotton yarn and polyfill stuffing,  b) no small parts, particularly that can be detached (ie: no button eyes),  c) a sewn-on tag with our website as distributor of artisan-made toys in small batches."
But did these safety considerations make Joan Frisz from Just Creations carry the llamas? "When one of the founders of PJT approached me about carrying their products, I answered as I always do, NO!  Then she showed me the llamas. Yes, we did need children's gifts at that time and they were so cute, so we brought them on. Since we introduced them in 2007, we've sold nearly 500 of the large llamas. The babies came along a year later and we've sold almost 500 of those, too."  When asked how customers react when they see the llamas, Joan replied, "I don't recall there being any swooning, but it is universally agreed that they are adorable. When we tell [customers] that they are washable, that's a good selling point. As the price has increased over the years, we are now selling more of the babies than the mama llamas."  Joan displays them with the book Is Your Mama a Llama? saying "They make a great gift combo."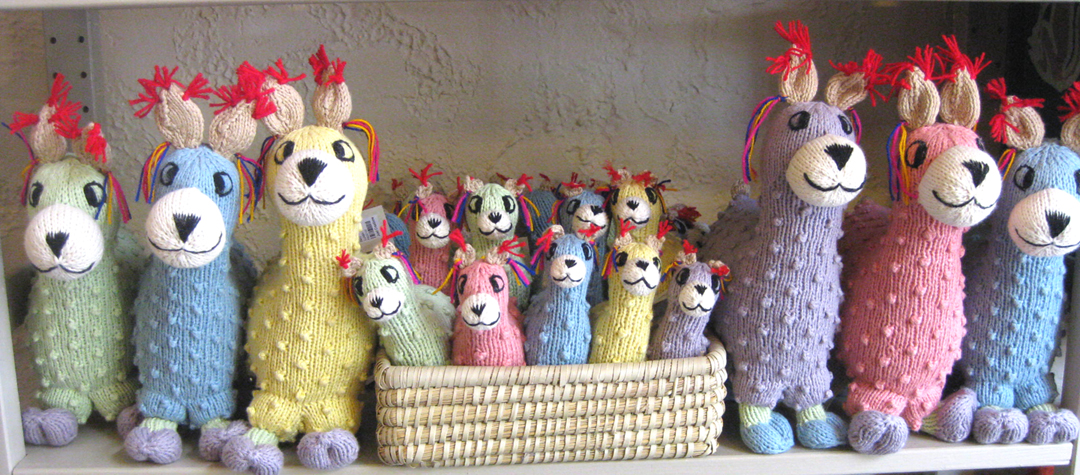 And it's not just toys that are subject to Custom's scrutiny. "It was a shock to Global Mamas in 2008 when the CPSC announced their intention to include clothing in their safety standards for children's products," Kristin Johnson said. "Our children's clothes comprise a large portion of our annual sales and the Mamas were all anxious that the standards would make it impossible to sell their products in the US. We knew our dyes for safe for kids, but we didn't know anything about the lead content in our cotton fabric. It was a confusing time – the standards were confusing and required several rounds of updates and clarification. I remember how helpful the Fair Trade Federation was in helping us to navigate the continual updates.
"Rather than waiting for the standards to be finalized, we decided to immediately have a broad range of our products tested. It was huge a relief to find out that our fabric and buttons fully complied with the most stringent standards. What we did learn was that the snaps we sourced in Ghana slightly exceeded the standards. Though we could have sold the dresses already in stock in the US, we opted to have a local sewing center in Minnesota replace the snaps with buttons. All patterns in Ghana were updated to replace snaps and metal zippers with buttons. All in all we spent nearly $5,000 and quite a bit of time to ensure we complied with all standards (product testing, pattern updates, and snap replacement for products already in the US). As a community of Mamas we felt this investment was important to ensure our products are safe for kids around the world."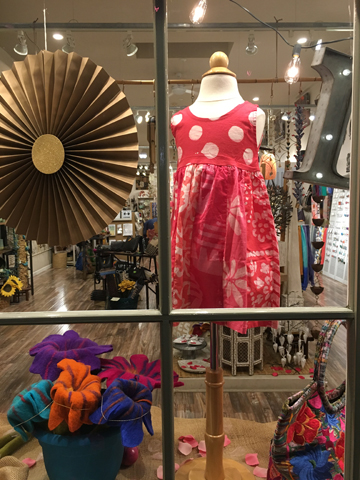 "At One World Fair Trade we've always loved Global Mamas, the stories of the women themselves, patterns, fabric and designs are wonderful," store manager Kimberly Lopez said.  "As a mom I've especially been a fan of the children's clothing and been able to appreciate the sweet styles and practicality as well as wonderful quality.
"The best selling feature for the kids clothing is a tie between the vibrant and adorable patterns and styles and fantastic quality. And the fact that they can be washed and dried without any special care and will be the longest lasting items of clothing in your child's wardrobe. Customers first comment is always of how cute they are, the patterns are whimsical and styles are cute.  The best way to display the product for us has been to separate styles and size easily for customers to see. In the children's section. Hanging styles to display is helpful as well if space allows. We always have one style on a child's mannequin in the children's section as well. We have featured them in our window or front/center display to highlight them, which is when we have found them to do best."
You'd think that because these Fair Trade Federation members are doing such fantastic work at providing sustainable income opportunities and building communities in Bangladesh, Zambia, Peru and Ghana, they'd get some kind of special treatment when it comes to importing.  But because they comply with the government-imposed stringent safety standards you can be assured that these products are safe for children here, which adds just one more reason we love the people behind these products.
And it's because of these and other FTF member wholesalers that Global Crafts is again able to offer baby and kids products for wholesale in its For Kids category with a clear conscience.