Seasons become an interesting concept when one lives in places without them. Living in Florida means drifting through the months, only knowing that it's summer when the school zone lights are no longer blinking on my way to work.  So I want to take this opportunity to acknowledge that summer has arrived, even in Florida, by featuring some Fair Trade summer products.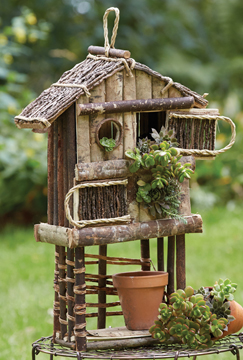 Many Fair Trade products fall into the category of "Home Décor" but not that many of the products can survive the elements. But if we're hanging around outside, why not be surrounded by beautiful, unique Fair Trade products? If you're in a place like Madison, Wisconsin like SERRV is, you want to ensure that as many birds as possible visit your yard so you don't blink and miss them before they head back South so instead of a bird "house" you have a bird "condo!"  Made in the Philippines by SAFFY handicrafts, the Birdie Dwelling Condo is made from twigs and other natural materials.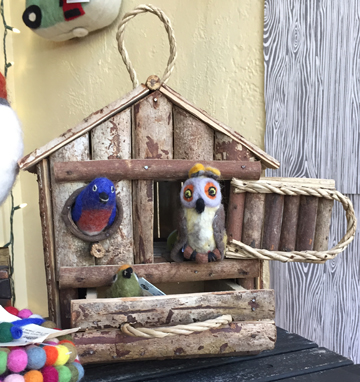 Fair Trade Winds, has found that not only the birdie condo but other bird accommodation designs that SERRV carries serve multiple purposes in their stores. "The combination of the birdie condo and the felt birds [from dZi'sWild Woolie Felted Birds collection] do make a unique and attention-grabbing display," writes Lois Culler, Fair Trade Winds cofounder. "We are trying to use more fair trade items as display pieces also, and this is one perfect example of an item that works for a display but can be sold as well."
Emily Lynn from the Fair Trade Winds Seattle store writes, "The bestselling feature of the bird houses is that they are made of sustainable wood, making something new out of fallen limbs and vines that would otherwise not be useful anymore."  And the felt birds from dZi? "With many many different birds available from dZi so you can pick the ones that are common in your geographic area — this appeals to tourists. The owls are so unique — the wings, ears, and faces are all so realistic and made with care. They are popular with everyone!"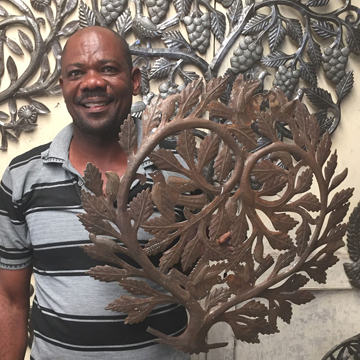 The amazing rustic metalwork made by Haitian artisans and carried by Global Crafts is also a perfect product to decorate your outdoor space. It's an arduous process preparing the metal so it has the "natural" patina you are used to seeing (there's a lot of flames involved….)  The finished pieces are coated with a lacquer to help prohibit rusting if you hang them outside.
Cindy Borgert of Farrington's Fair Trade, located in another one of those places where summer is only a weekend long – Minnesota, tells a story of one customer's reaction to the Haitian metalwork. "A man wanders into the shop as his wife checks out a neighboring business.  We greet him, invite him to look at the drum art hanging on the wall by the bed, knowing he will appreciate the amount of work that each piece entails.  'Haiti is known for its metalwork.'  We describe how each piece is laid out, then meticulously cut and detailed, one tap at a time–no saw blades, just tap, tap, tap.

'They can be displayed inside your home, or outside–come look at one we had hanging outside our shop next to a highway for three winters.' He sees how the elements have affected a patina on the once-shiny metal. He wanders through the shop, taking in the several pieces we have displayed throughout the shop: one over a fireplace mantel, another presiding over a dining set…The man leaves the store.  He returns shortly, and leads his wife to the drum art, excited to share its beauty and story with her."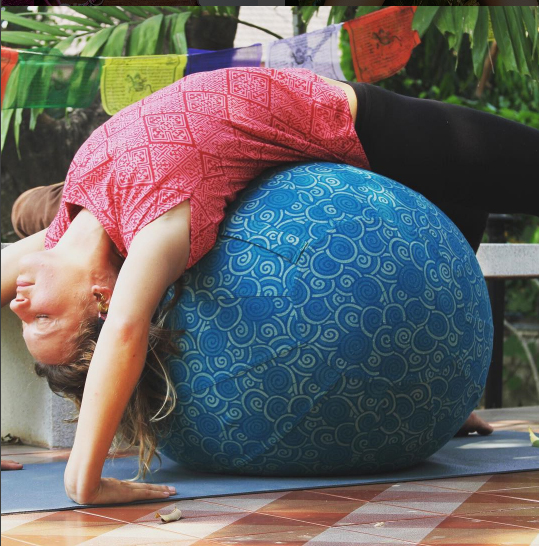 When it's hot, it's difficult to want to do much that causes sweating so we've found yoga is the go-to sport for many in our community (not that sweaty Bikram yoga, mind you.) Many have taken to using the large rubber yoga balls in their practice. But let's face it, the ball is made out of rubber – it sticks to your skin when your skin is dry and slips away when your skin is wet.  So to enable you to continue your practice with your yoga ball outdoors in the summer, the yoga ball cover from Global Groove Life is a necessity.  The yoga ball covers are made in Thailand by a fair trade woman's sewing cooperative.
Sara Olaguez, Birth Doula and Childbirth Educator,  carries the ball covers in the green boutique within Bini Birth, an education and support center for birth professionals as well as new and expecting families.  "…[The covers] are popular with birth doulas, as well as expecting parents. We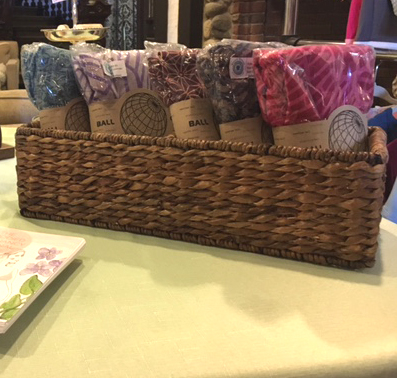 were drawn to Global Groove because of their fair trade practices. We also loved the product. They are cotton, have beautiful prints, and have handles which makes for easy transporting of a big ball through hospital halls or to and from cars to homes. Birth professionals as well as expecting parents love these ball covers. They make for easy transport are easy to clean, as well a beautiful. Our doulas love them mostly for the zippers and ease of on and off, new parents usually love them for the look, but later fall in love with the ease of use. We have our birth ball covers displayed in a woven basket on a table as you enter our facility. They often catch the eyes of passersby, with their lovely patterns and colors."
In Florida during the summer we tend to float a lot rather than expend energy, but in most parts of the country, it's play time! Patrick Groft from Pocket Disc offers the quintessential summertime fair trade product handmade in Guatemala. Patrick's answer to why people
buy pocket discs (the more the merrier) reads like an extensive keyword list: "Soft, safe on the head and the house, packability, versatility, fair trade, bright, colorful, fun, lightweight, great for people who are not so confident at catching."  Customers comments range from "Wow, it's so easy to catch" to "Wow, I can't believe it flies,"  "Oh my gosh I did it!" "These are so beautiful, do they really work?" to "Duuuude!!"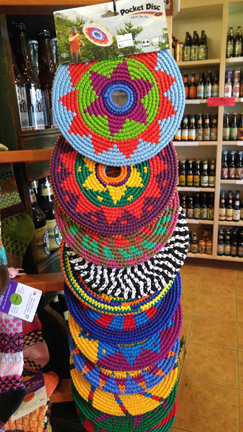 When asked what is the best way to display them, Patrick wrote, "At the store level, it's with our free racks. – At the festival level, clipped to the underside of the front of the tent – the 12-inch vertical area above your head before it goes up at the angle, like Xmas lights under the roof of a house. And on the grid wall. No matter how it's merched, throwing the store sample disc with everyone is the way to sell it."  I'm pretty confident the pocket disk is the only fair trade product that sells better when thrown.
Searching through Facebook, I found the pocket discs in a Harvest Moon Food Store post — ooh ooh!  Perfect picnic placemats, no?
I'd love to hear about your favorite Fair Trade summer product is and the best way to sell it.